Upside Down Catfish (Synodontis nigriventris)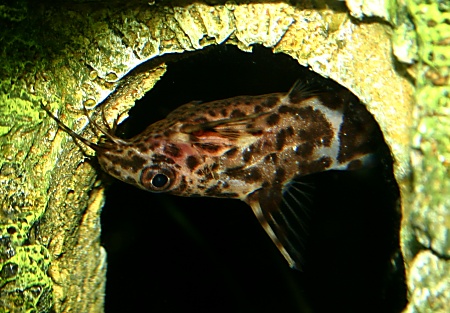 This picture is not upside down!
This curious catfish has the unusual characteristic of spending most of its time swimming upside down! This is a really unsettling sight, and the fish makes an excellent addition to a tropical community fishtank.
Unfortunately once the catfish has got over the excitement of moving to a new tank, it tends to become very nocturnal and secretive, particularly if the tank contains caves or other hiding places.
I have only ever seen mine forage for food more than an inch or so away from its favourite cave on one occassion. Even my other supposedly nocturnal fish, the Kuhli loaches appear much more frequently. I am not sure whether the fish gets braver if there are several of its species in the same tank, or whether it just likes living in its cave.
I haven't been able to determine its diet, although it seems to lick algae off the side of the cave walls and side of the tank.