Tiger Barb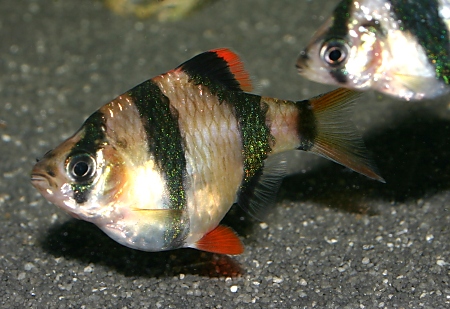 Tiger Barbs are attractively coloured shoaling fish that make a great addition to the tropical freshwater fish tank. They are very active fish, and are always fun to watch.
They have a reputation for being aggressive, so they may bully other fish, or nip the fins of slower moving fish.
Feeding
Tiger Barbs eat practically anything - they are not fussy eaters at all. They will eat flake food, algae wafers as well as live and frozen treats such as bloodworms, water fleas and brine shrimps.
Note that Tiger Barbs do get very active when food is added to the tank, so they may not be suitable tankmates with fish that like to take their time over their food. To ensure that everyone gets their fair share, it may be worthwhile scheduling some feeding times for during the night, when Tiger Barbs are much less active.
Behaviour
Tiger Barbs are busy fish! I think they are the busiest fish ever.
Like many shoaling fish, Tiger Barbs establish a definite pecking-order within the shoal. Periodically a couple of the fish will have a fight to challenge for a position in the pecking order. Each fight continues for several minutes, during which they encircle each other and try to nip each other's fins: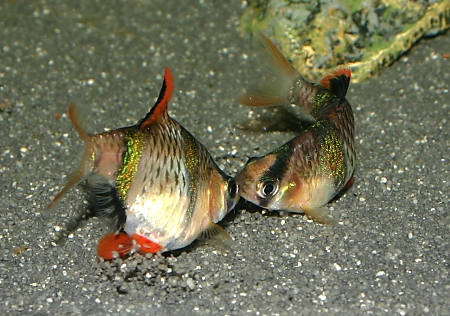 After pecking order is re-established, the fish seem to get on pretty well again after that.
Sexing Tiger Barbs is quite straightforward. The males have bright orange noses and their fins may be a stronger orange colour. Note that the fish do often look different colours according to the lighting and also the mood of the fish!
If you like Tiger Barbs, then the similar Neon Rosy Barb is also recommended.