Cobalt Blue Dwarf Gourami (Colisa lalia)
I introduced a couple of male Cobalt Blue Dwarf Gourami to the tank to replace the Siamese Fighting Fish, which died after a couple of months. These fish have a wonderful colouration which reflects the light. They are also a contrasting shape to the Neon Tetras in the tank.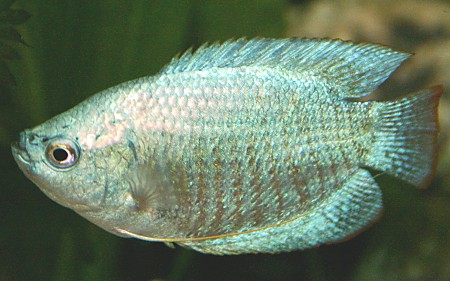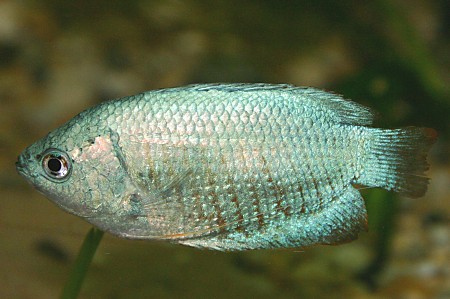 Feeding
They eat standard tropical aquarium flake food, as well as frozen food such as brine shrimp or bloodworm. I've also seen them eat small pieces of vegetation.
Behaviour
I would have liked to have got a male and a female, but the local fish shop only had males available. The two males appear to fight a bit, but it seems to be good natured and neither has sustained any damage so far. Hopefully once they figure out their individual territories this should stop. If I had a larger tank I would probably get 3 - 5 of the fish.
Unfortunately after three weeks the aggressive behaviour of one of the fish towards the other one seemed to be getting worse. As a result the local fish shop very kindly took one of the fish back, and I replaced it with two red platys. I would not, therefore, recommend that you only keep two male Dwarf Gouramis in a small tank. They might be better in larger groups, as there did not appear to be any signs of aggressive behaviour amongst the fish in the fish shop.