Bumble Bee Goby (Brachygobius xanthozona)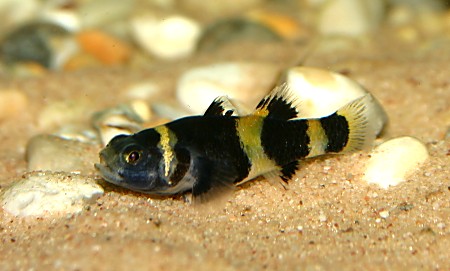 I found this small fish in a new local fish shop that opened in my area. I haven't seen this fish anywhere else so I assume it is quite an uncommon species to be found in tropical fishtanks.
The fish is very small (about the size of a Neon Tetra) and has dark brown and yellow stripes (hence the name). The banding pattern along its body resembles those of a Kuhli loach, but the fish is not at all like a Kuhli in appearance or behaviour! It seems to divide its time between swimming around the tank looking for small food particles, and sitting on the plants or at the bottom of the tank. It gets very active if food is added to the tank.
I've heard that the Bumble Bee Goby can be a fussy eater which prefers live foods. I've had no problems feeding it though - it will happily eat standard frozen brine shrimp and blood worms.
I've also heard that the Bumble Bee Goby prefers brackish water and cannot survive in salt-free freshwater. I hope this is not the case so I will continue to monitor the fish's health.
It seems to have little or no interaction with the rest of its tankmates. Since I only have the single Bumble Bee Goby I'm not certain if they will tolerate several of their own species in the same tank.