African Dwarf Frogs (Hymenochirus curtipes)
Aquatic frogs make an interesting addition to any tropical fish tank. The most popular species is the African dwarf frog (Hymenochirus curtipes).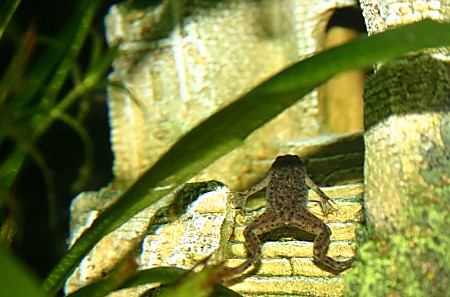 They appear to eat anything, and are especially fond of bloodworms (either live or frozen). They seem to be particularly sensitive to motion, and will quickly find food sources at the bottom of the tank.
The frogs appear to prefer breathing air from the top of the tank, as they make regular trips to the surface. For this reason it is important to ensure the surface is accessible to them. I have not seem the frogs sitting on any vegetation to escape out of the water - they seem to be fully aquatic in nature.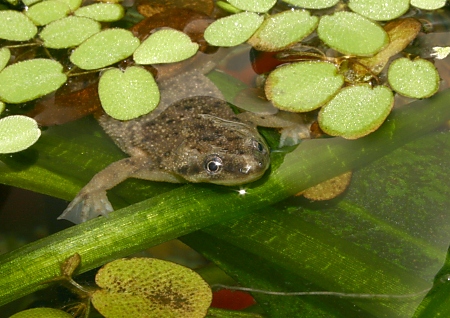 Incidentally, if you buy some frogs for your tropical fish tank then it is important to ensure they are the dwarf variety, otherwise your frogs may grow large and eat your fish!
Don't forget that frogs can jump considerable distances, so you must secure the fish tank before adding any to the tank.
Occassionally I find that the frogs will try to give my Kuhli loaches a painful nip, even though the loaches are several times their size! I think the Kuhlis are targetted since they spend most of their time sitting at the bottom of the tank. I am not certain why the frogs seems to think that the Kuhlis are edible!
If you have a pair of aquatic frogs, they may occasionally attempt to mate:
Unfortunately I've never seen any frog spawn in the tank though.