Travel Log for Tokyo, Japan
Sitting in front of a computer all day doing my geek job is pretty stressful, so for two weeks a year I like to get away from it all and let the brain not have to think too much about stuff.
For that reason, on a crisp Autumnal day in October 2007, I found myself in Terminal 3 of Heathrow Airport, waiting for a Japan Airlines (JAL) flight to Tokyo, Japan. I had finally decided to do something about my lifelong ambition to visit Japan!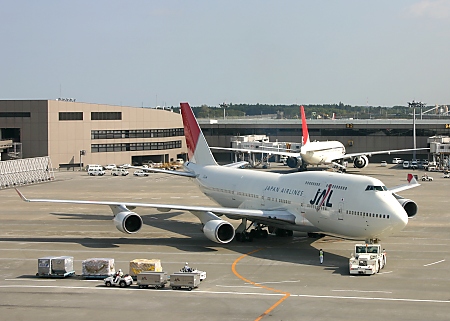 Narita Airport
Unfortunately my first impressions of Japan weren't encouraging. Given that Narita International Airport is over 50 miles from central Tokyo, and that I wanted to be clear of it before the evening rush hour kicked in, I was disappointed at having to queue in a very hot and stuffy immigration hall for over an hour. This was followed by an overzealous customs official rummaging around in my suitcase looking for contraband - he showed me a card with an electic mix of items (guns, knives, snakes) but it was clear he was particularly interested in certain Western publications, as if he thought I was a Playboy magazine smuggler or something.
Once the formalities had been completed though, the more usual Japanese efficiency kicked in and it was straightforward to buy a ticket for the next Narita Express (N'EX) train service into central Tokyo. In fact I opted for the Suica & N'EX combination ticket, as this included a Suica card that could be used to pay for most public transportation in and around Tokyo without having to use the ticket vending machine each time. Unfortunately the next Narita Express didn't go to Shinagawa so I would subsequently have to change at Tokyo station. Subsequently I found out that a ticket for the Narita Express allows you to travel by Japan Railways trains to pretty much anywhere in Tokyo without having to buy a separate ticket for the final leg of the journey.
N'EX Express
So I finally boarded the N'EX service for Tokyo, found my reserved seat and got ready for the ride into central Tokyo. The train departed exactly on time - something that would happen a lot during my vacation! I felt sorry for the guy sat next to me, after being awake for 25 hours including an 11 hour flight I had gone very stale. The journey itself is a circutous journey beginning in the rice fields around Narita and passing through the endless suburban sprawl of Chiba and Tokyo's other suburbs until it reached Tokyo station itself. Somehow I managed to stumble around Tokyo station until I found the Yamanote line platforms, from where I found the train to Shinagawa. By the time I had found the Shinagawa station main exit and located my hotel I was feeling very disorientated - the train journey on the Yamanote line through the skyscrapers of Ginza with Shinkansen bullet trains whizzing past every few minutes was way too much for my brain to process!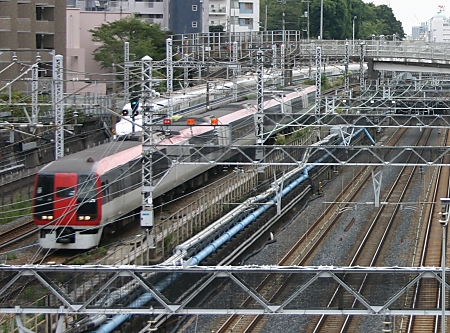 Thankfully once I'd recovered in my hotel room, I was ready to explore Tokyo. Below are some observations and photographs from the parts of Tokyo and the surrounding areas I visited during my fortnight's stay.
Tokyo Districts
Here are most of the Tokyo districts I visited. My favourite districts are at the top of the list.
Excursions from Tokyo
Miscellaneous
In previous vacations, I've also been to Hong Kong (2006) and New York (2005). I returned to Tokyo in 2008 and Hubei Province, China in 2009.