Home > Travel Log > Tokyo
Tokyo Travel Log: Yokohama
Yokohama is the second largest city in Japan. It is situated to the South West of Tokyo, but given the amount of urban sprawl it's difficult to determine where Tokyo ends and Yokohama begins.
I travelled to central Yokohama via a circuitous route, but it allowed me to travel on a Shinkansen bullet train (pictured below) from Shinagawa to Shin-Yokohama.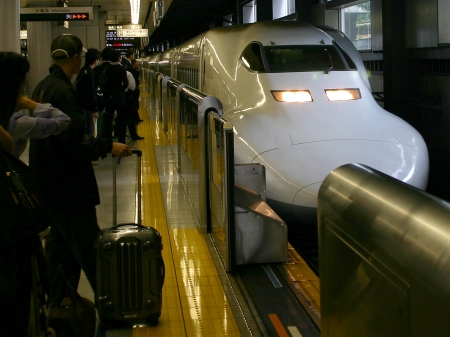 From Shin-Yokohama I took the Yokohama Shiei subway to Yokohama's main train station. From there I travelled on the Minatomirai line to Minato Mirai station itself.
Like London's Docklands, Minato Mirai is an area of Yokohama that was once occupied by part of the port, but is now being redeveloped to house modern hi-rise shops and office buildings. A notable building is the Landmark Tower, which at the time of my visiting was Japan's tallest building. The ride up to the 69th floor Sky Garden in Japan's fastest lift took just 40 ear-popping seconds. The lift had a rather nice speedometer in it.
Visiting the Sky Garden observatory cost 1000 yen, which was quite pricey but the view was well worth it (see below). It was also a lot less crowded than the Tokyo Tower and Metropolitan Government Offices observatories I visited in Tokyo.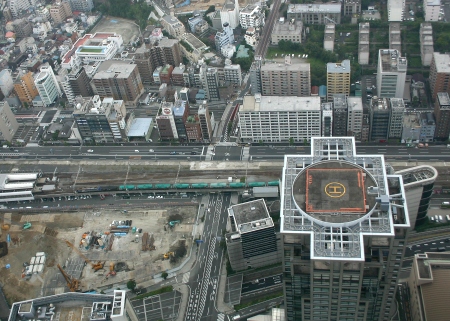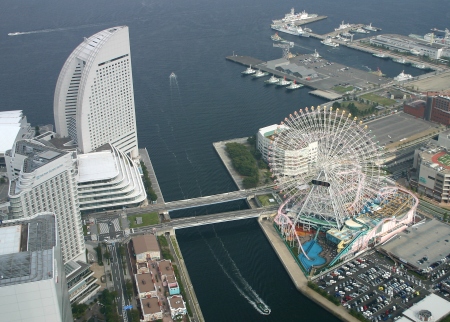 Coming back down to earth, I continued travelling on the Minatomirai line to Motomachi-Chukagai. This station is located near Yokohama's famous China Town, which is reputed to be the largest China Town in Japan, and indeed in the whole of Asia. After visiting Hong Kong in 2006, and New York's China Town in 2005, I was particularly looking forward to Yokohama's China Town. However, the place was a bit of a theme park which ruthlessly exploited the Japanese love of cuteness to sell every conceivable type of Panda related paraphernalia (Panda steamed buns anyone?). There were a couple of nice temples though: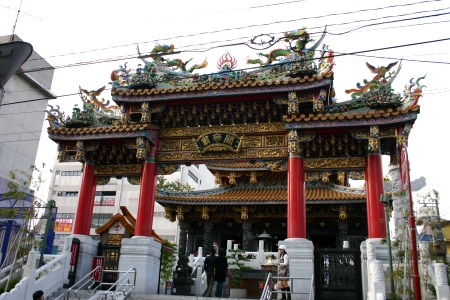 Apologies for the telegraph wires spoiling the picture, but that's a very common sight in Japan!
After strolling around China Town for a while, I went in search of a convenience store so that I could fulfill my longing for a potato salad sandwich and some Pokky. Fortunately I came across both, in a rather excellent convenience store that had a postbox inside it and it also sold fish and chips!
Across the road from the convenience store was a lovely river. I found it amusing that the Japanese had built a freeway on top of it: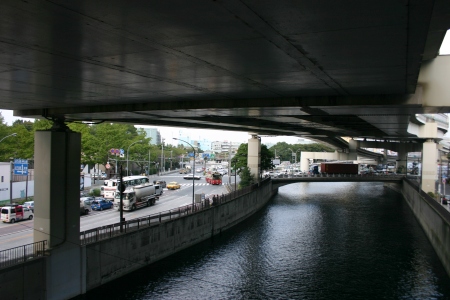 Unfortunately I didn't have enough time in Yokohama to visit the famous Ramen noodle museum, but I had a good bowl of Ramen noodles back at Shinagawa station.