Home > Travel Log > Tokyo
Tokyo Travel Log: Shibuya
Shibuya is one of the major districts of Tokyo, and is renowned for its large number of fashion stores. This is one of the best places to see Tokyo's fashionably dressed, although it gets very crowded (particularly at weekends).
As well as being an important shopping destination, Shibuya is a major transportation hub. As well as being on the Yamanote line which runs around central Tokyo, there are a plethora of other train and subway lines emanating from Shibuya.
Shibuya's Japan Rail station is next to the famous crossing, said to be the busiest pedestrian crossing in the World. To get to the crossing, take the station's Hachiko exit. If you are feeling wealthy you can have a cup of coffee in the Starbucks that overlooks the crossing. Be sure not to get caught trying to take photographs though!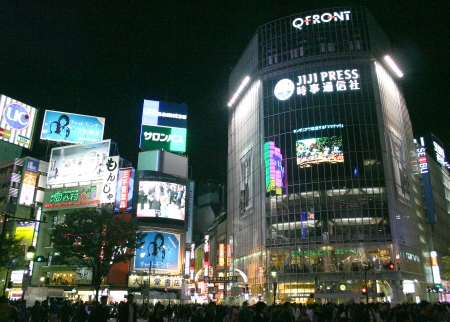 As you might expect from a major shopping district, there is a lot going on. This promotional stall was manned by women dressed in bathrobes and was encouraging shoppers and office ladies to change their moisturiser or something.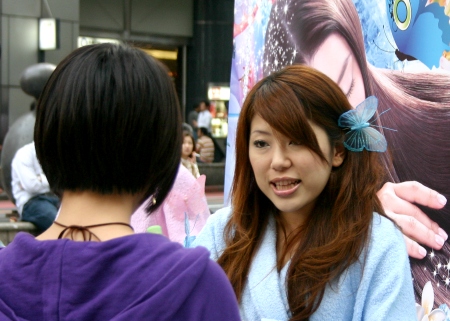 Cute Asian girls are commonly used in Japan to promote new goods and services. While you're in Shibuya, don't forget to visit nearby Harajuku, which is another fashion Mecca for Tokyoites.
Midway between Shibuya and Harajuku is the NHK Studio Park, an attraction run by Japan's national broadcaster, NHK. The shop in the complex is a shrine for fans of Domo-Kun, a loveable monster who started off as NHK's mascot, but who also became a bit of an Internet icon. Here is Domo-Kun on the side of a bus: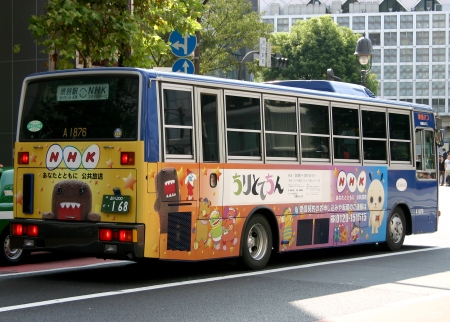 One evening while watching Japanese TV in my hotel room, I managed to find a show featuring Domo-Kun. I'm not sure what the show was about, but it seemed to resemble the Mr Blobby shows that were on the BBC during the early 1990s. Love Domo-Kun? You can buy Domo-Kun merchandise here!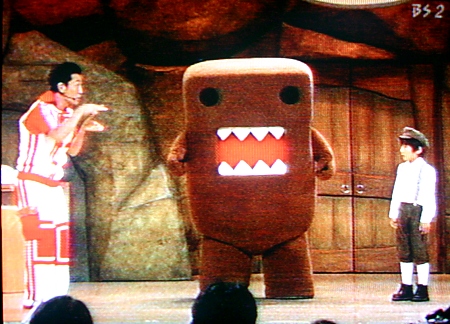 Other places of interest I found in Shibuya include:
The Hachiko statue outside the JR station

The Mandarake animé and manga store. It's easy to walk past the rather plain entrance to this shop, but down several levels of stairs in what was probably once an underground car park is a treasure trove of rare manga books, figures and other paraphernalia.

Shibuya 109. Even if you're not interested in fashion, this store is well worth a look for the outlandish fashions on sale, the shop assistants dressed up to the max in the latest fashions and the bling Hello Kitty! merchandise on the ground floor (the diamond encrusted bicycle is fantastic!). Here's more information about the cool Japanese fashion in Shibuya and Harajuku.