Home > Travel Log > Tokyo
Tokyo Travel Log: Setagaya
Setagaya is a wealthy residential district in Western Tokyo, Japan. It was on my list of places to visit in Tokyo due to the Gotoku-ji temple, which is where the Maneki-Neko, or Beckoning Cats figures seen throughout Asia originated. This is an interesting excursion from central Tokyo, and because it doesn't feature in either the Lonely Planet or Rough Guide guidebooks it is rarely visited by Western tourists.
I reached Gotoku-ji by taking the Tokyu Den'en line from Shibuya to Sangenjaya. From Sangenjaya it was a five minute walk through the town to the Setagaya line's Sangenjaya terminus: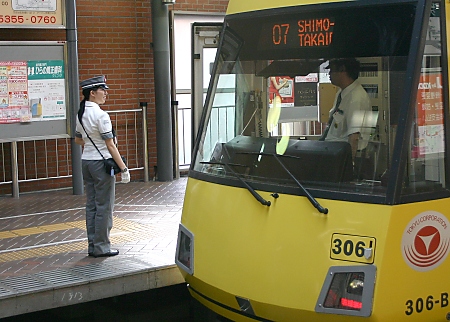 The train terminus is next to the Carrot Tower, which has a top floor observatory. This line is one of the last remaining streetcar lines in Tokyo. After leaving Sangenjaya the train arrived at Miyanozaka station a few minutes later: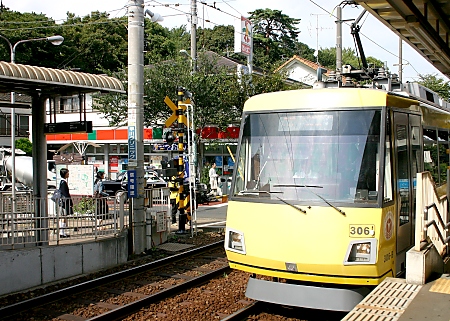 Gotoku-ji temple was about a five minute walk from Miyanozaka station. Fortunately I printed a Google Earth map of the area before travelling to Tokyo, so it was very easy to find. Incidentally Gotoku-ji is also within walking distance of Gotokuji station on the Odakyu line from Shinjuku.
As you might expect of a temple in a wealthy suburb, there were a number of fine buildings, including this one below: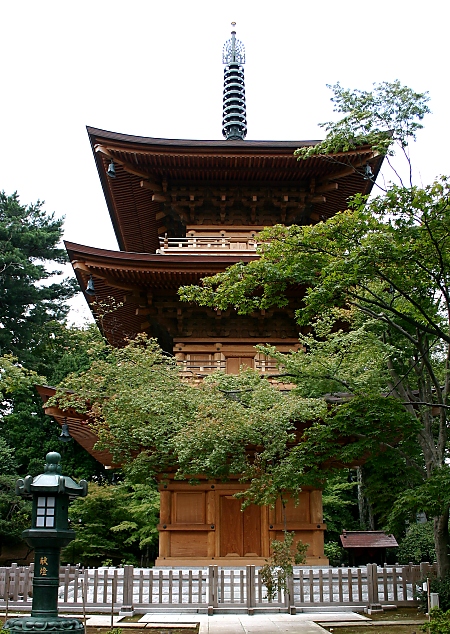 There were also quite a few graves, which were visited by quite a number of family groups during the time I was there:
Despite being in the middle of the huge metropolis that is Tokyo, Gotoku-ji temple was quite an eerie place. The presence of many large Karasu added to the atmosphere. This one was bathing in a stone ornament: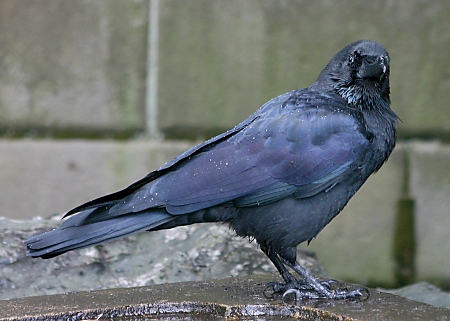 Finally, after a bit of searching I managed to find the Beckoning Cat shrine: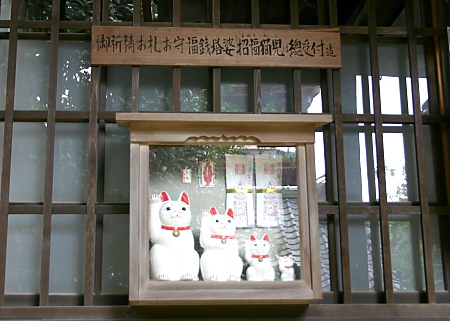 Beckoning Cats (otherwise known as Lucky Cats or Maneki-Neko) are found throughout Asia as well as Asian shops and restaurants in the rest of the World. They are thought to being good luck (particularly of the financial kind), and are commonly seen on the counters of shops and restaurants.
The temple building appeared to be locked, but outside there was a large display of Beckoning Cats: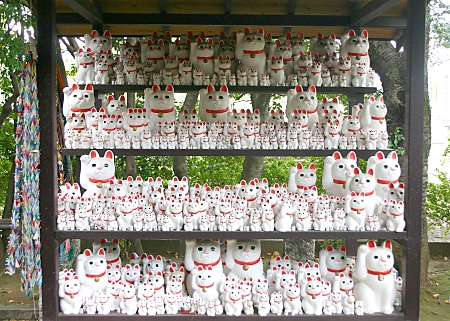 I couldn't imagine such a thing being on display in England without being smashed up by vandals.
If you need some financial luck of your own, outside the temple's main entrance there is a florist shop that sells Beckoning Cat statues in various sizes. There is also a shop within the temple itself.