Home > Travel Log > Tokyo
Tokyo Travel Log: Odaiba
Built on reclaimed land in Tokyo Bay, Odaiba has a few interesting attractions to warrant an afternoon's exploration.
The best way to visit Odaiba is via the Rainbow Bridge. Although it's possible to get a bus, taxi, or even walk across, the best way for a tourist is probably via the Yurikamome train line from Shimbashi (which itself is on the Yamanote line). This is a futuristic new train line that strongly resembles the Docklands Light Railway in London. The train itself performs a 360 degree loop as it gains sufficient height to cross the Rainbow Bridge.
Once across the water in Odaiba, there are a number of attractions of interest. Odaiba is popular with Japanese guys who want somewhere romantic to take their Japanese girlfriends.
I left the train at Daiba station. Here, I was intrigued to see a replica of the statue of liberty: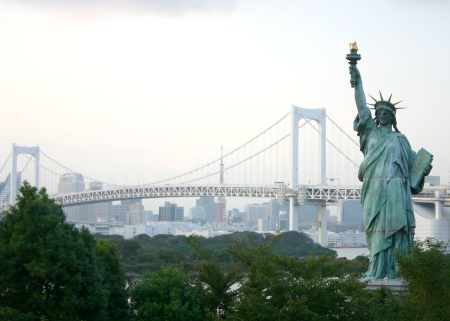 In the background of this picture is the Rainbow Bridge, and behind that (in the centre of the picture) is the Tokyo Tower.
Near to Daiba station is the Headquarters of Fuji Television. The building is one of the most distinctive in Tokyo, having a large ball in the middle: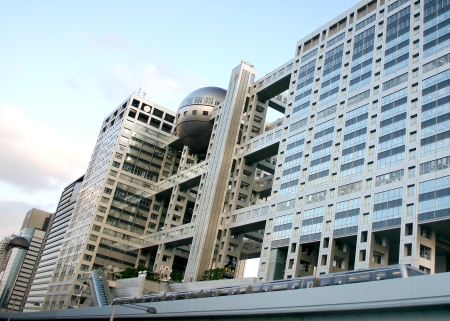 There wasn't much English signage around this part of Tokyo, but I managed to buy a ticket to go up in an elevator into the ball part of the building. Unfortunately the view wasn't that great, and wouldn't have been worth the rather steep admission charge. However, what made up for the view was that they were using most of the interior of the ball to film a J-Pop video for the Idoling!!! television show. I watched the cute idols perform the song at least half a dozen times under baking studio lights before the director was satisfied. It was great to see the action behind the camera as well, particularly the camera crews running around trying to get the long list of shots the director had specified.
I managed to find out that my favourite idol, Rurika Yokoyama, had the same blood type as me - nice.
Back down to earth, it was nice to see that the both the Statue of Liberty and the Rainbow Bridge were floodlit at night: