Home > Travel Log > Tokyo
Tokyo Travel Log: In Search of Mount Fuji
Going on vacation to Japan without seeing the iconic Mount Fuji would have been unthinkable!
On clear days, it is theoretically possible to see Mount Fuji from Tokyo. Unfortunately, it was too cloudy or too hazy to see it during the entire two weeks I was there, like this view from the Metropolitan Government Office building in Shinjuku: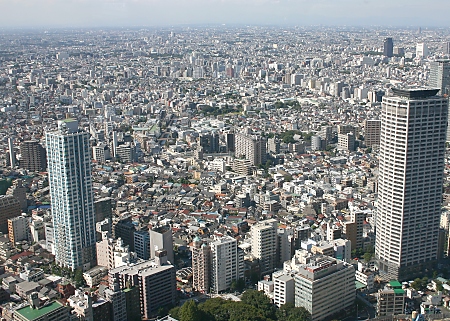 Unfortunately I didn't have a map of Japan with enough distance shown to allow me to see exactly where Mount Fuji was located. I did have an idea it was 70 miles or so to the South-West of Tokyo though. After my trip to Kamakura, I travelled via the JR line from Ofuna to Odowara. I was certain that after travelling this distance from Tokyo I would see Fuji, but sadly there was still no sighting.
From Odowara I rushed to catch the Odakyu Electric Railway's Romancecar limited express back to Shinjuku. Due to a mix up on the ticketing arrangements the ticket conductor gave me a modest 300 yen fine, but it was well worth it for travelling on one of the nicest trains I've ever seen. Once the train terminated at Shinjuku, the train crew were even able to swivvel the seats around so they were facing the direction of travel for the return journey - neat!
Shin-Fuji
Having been in Tokyo for ten days without a sighting of Mount Fuji, desparate measures for called for. Perusing the Shinkansen timetable at Tokyo station, I spotted a station by the name of Shin-Fuji that was about an hour's journey.
Along the way, I recognised the coastal scenery from Sofia Coppola's Lost in Translation when Scarlett Johansson's Charlotte travels to Kyoto.
As the train got futher away from Tokyo, the scenery got more rural and mountainous, but there was still no sight of Fuji. I began to feel that the trip had been in vain, when suddenly the iconic, snow-capped cone of Fuji came into view: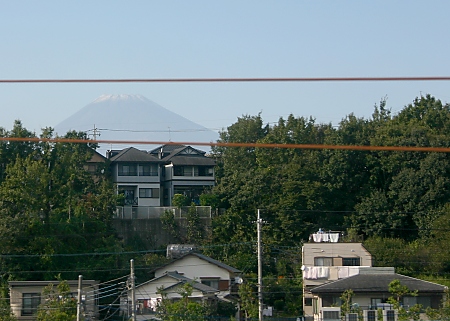 I was then concerned that Shin-Fuji's station would be too far away from Fuji to allow a really good view. Fortunately these fears were unfounded as there are excellent views to be afforded from the station: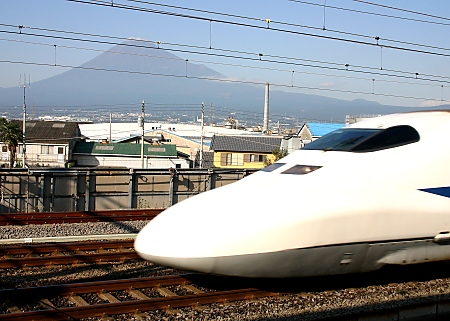 I had a quick look around Shin-Fuji to see if I could find a good vantage point from which to photograph Mount Fuji.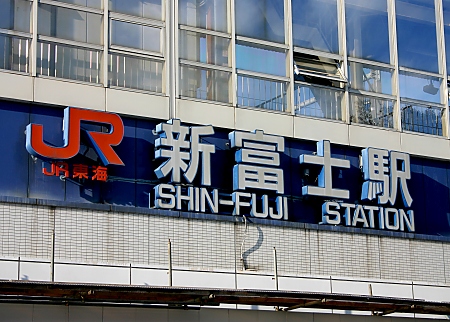 The area around Shin Fuji's station reminded me of small town America: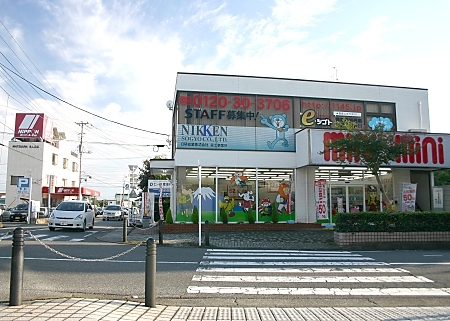 Unfortunately it wasn't the prettiest town I've ever seen, and the it had the usual proliferation of telegraph poles to obscure an otherwise perfect vantage point of Mount Fuji: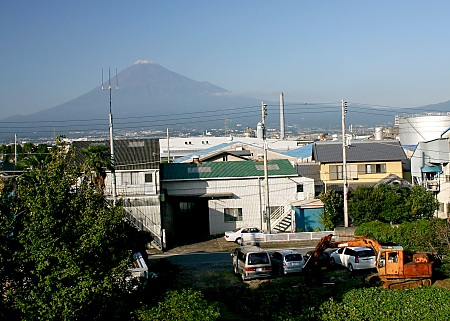 Due to some confusion with the Shinkansen ticket machine I ended up paying nearly 10,000 yen for the round trip, but it was probably worth it! If I return to Japan I would definately consider buying a Japan Rail Pass as this would have lead to considerable cost savings on Shinkansen journeys. In fact I bought a Japan Rail Pass for my November 2010 trip, and it was well worth the money considering that Shinkansen fares are the same as airline fares for many routes!
It was dusk when I finally got back to Tokyo's Shinkansen station: