Home > Travel Log > Tokyo
Tokyo Travel Log: Kawasaki and Kawasaki Daishi
Kawasaki was an easy place to visit from my hotel in Shinagawa due to the proliferation of train services between the two localities. I opted for travelling via the Keikyu private line from Shinagawa. Their trains were a nice maroon colour:
It was impressive to see the number of local and express trains they managed to run on just a single pair of tracks.
On the branch line train from Keikyu Kawasaki to Kawasaki Daishi a local woman struck up a conversation with me (in English). She was surprised to see a Western tourist in Kawasaki. Unfortunately I was a little embarrassed to say that I was largely going there to visit the Wakamiya Hachiman-gu Shrine. This otherwise unremarkable Shinto shrine is the home of Kanamara-sama, whose name roughly translates as Iron Big Penis Lord! I managed to find the shrine (it's next to a hospital). I also visited the Wakamiya Hachiman-gu shrine, where there was quite a lot going on and plenty to see, including quite a number of Japanese women in traditional dress. Outside the shrine there were a couple of streets with a number of gift shops, including two shops full of maneki-neko (Beckoning Cat) souvenirs.
I had a good wander around the back streets of Kawasaki Daishi. The highlight for me was finding a vending machine selling the biggest cans of beer I have ever seen in my life. Sadly I neglected to take a photograph of it, but nearby I did find another interesting vending machine, this time selling batteries: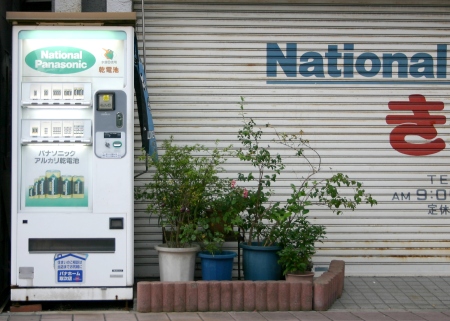 Unfortunately I had a bad experience on the train back to Shinagawa - my service was delayed by two minutes! This was the worst (and only) delay I encountered in my first fortnight in Japan.