Home > Travel Log > Hong Kong
Cheung Chau Island
Cheung Chau is one of Hong Kong's outlying islands. It is shaped like a dumbbell - the island is a couple of miles long, but at the thinnest point it takes less than five minutes to walk from coast to coast. The island is a good place to watch a more traditional Chinese way of life as well as to eat some of the freshest seafood in Hong Kong. Despite its small size, there is more than enough to occupy a daytrip from Hong Kong or Kowloon. Note that it can get very crowded at weekends.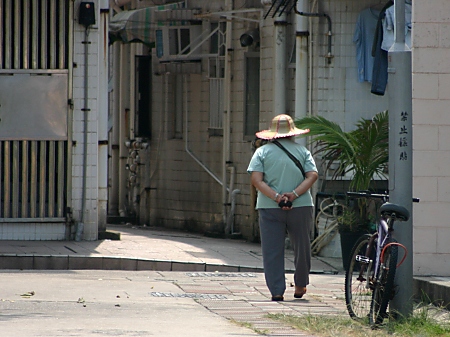 Cheung Chau can be reached using the cheap and regular ferry service from the Central ferry piers in Hong Kong Island. The journey takes about 35 minutes on the fast ferry, on an hour on the slow ferry. Cheung Chau's natural harbour is packed with all kinds of boats: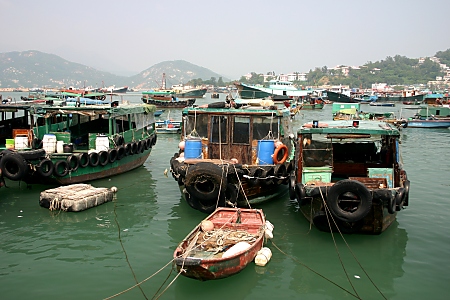 Being an island with no road connections, everything has to be sent to the island via boat. It's fascinating to see everything being loaded unloaded in the harbour, from food, building materials, bottles of Yakult and even the empty Coca Cola bottles:
The island is entirely car-free, so once unloaded from the boat, everything needs to be carted around the island on mini-moped, bicycle, or big strong man: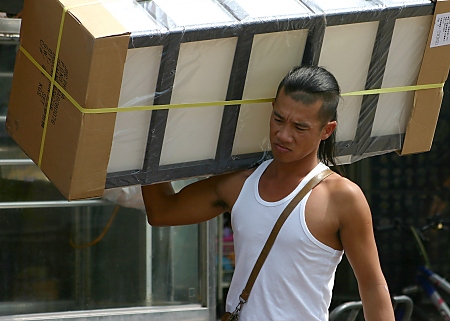 Actually, there are a few vehicles on the island, but they have been minaturised, like this fire department van: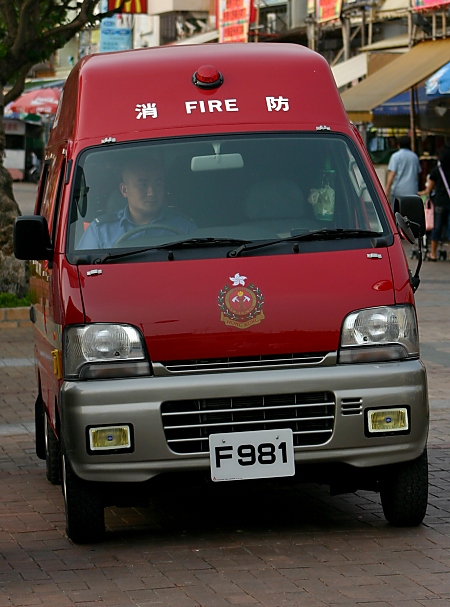 If you visit Cheung Chau, be sure to check out the minature fire engines and ambulance housed in a building at the North of the island.
Cheung Chau island also has some sandy beaches, although be sure to follow the rules: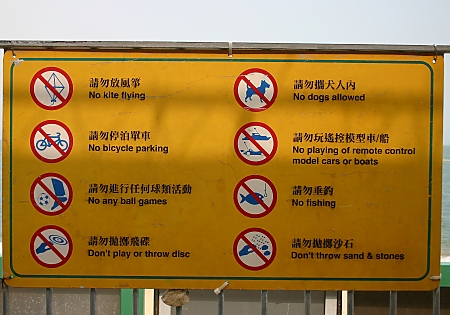 Thanks to an army of Hakka women, the sandy beaches are kept spotlessly clean: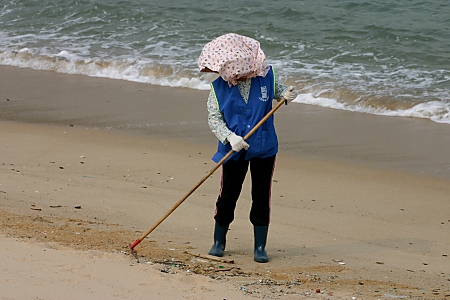 These men don't appear to have read the sign above: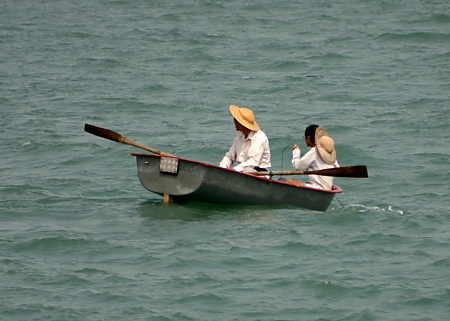 There are some good coastal walks around the island where it is possible to observe the sub-tropical flora and fauna. I found this spider hanging above one of the footpaths - walking underneath its web was not a good experience...