Home > Travel Log > Hong Kong
10,000 Buddha Monstery
Situated on the outskirts of Hong Kong's Sha Tin new town, the 10,000 Buddha Monastery is an intriguing place, and well worth a visit as an excursion from a holiday in Hong Kong or Kowloon.
The monastery is reached from either Hong Kong or Kowloon by taking the KCR East railway service from East Tsim Sha Tsui to Sha Tin's main train station. The monastery itself is quite tricky to find, but it can be reached from a nondescript footpath around the back of Sha Tin's branch of the Ikea home furnishings store.
Bizarrely, there's a sign post warning not to feed the aggressive monkeys that inhabit the hills around the monastery, though thankfully I never saw any!
Once past a few run down houses, the footpath steepens rapidly, and gets flanked by larger than lifesize golden statues of Buddist saints. The 500 metre climb to the monastery in sub-tropical heat would test the endurance of most saints. Thoughtfully, there is a restaurant and a small café at the top should you be in need of refreshment after the climb.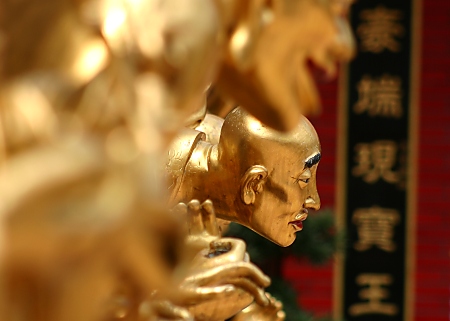 The main building of the monastery is rather garishly adorned with all kinds of dragons and other effigies. Inside the building the walls are packed floor to ceiling with most of the 10,000 Buddhas from which the monastery derives its name.
If you're a fan of Asian movies, you will recognise the monastery as being featured in the opening scene of the excellent Hong Kong police thriller trilogy, Infernal Affairs.
Once back in Sha Tin itself, it's worth walking through the New Town Plaza shopping centre to visit Snoopy World (free entry).