Travel Log for Wuhan and Yichang, China
In previous vacations, I've travelled to Japan and Hong Kong, so in 2009 I returned to Asia in order to visit the People's Republic of China.
The majority of Western travellers to China choose to take part in escorted tours. This is perhaps understandable, as China is a vast country, the significant sites are widespread, and the language barrier is vast.
Wuhan
Located in central China, Wuhan is a seething mass of 10 million people, a major magnet for the millions who have migrated from the countryside in search of a better life.
Wuhan is hot, noisy and almost completely unknown to Western tourists. It has few tourist sites, there isn't much in the way of English signage and public transport is off limits unless you are familiar with the language. But despite all the shortcomings it is a fascinating place to visit, and perhaps the greatest place in which to experience the new China.
Wuhan's tourist sites include the Yellow Crane Tower and the River Yangtze, which runs right through the center of the city.
Wuhan is easy to reach from most parts of the World. There is a major airport with regular flights from Beijing, Shanghai and other areas of Asia.
Yichang
By Chinese standards, Yichang is a small city although it has a population of around 4 million people. Yichang is not known as a major tourist destination. It is however situated right on the river Yangtze and is around 30Km downstream of the 3 Gorges Dam.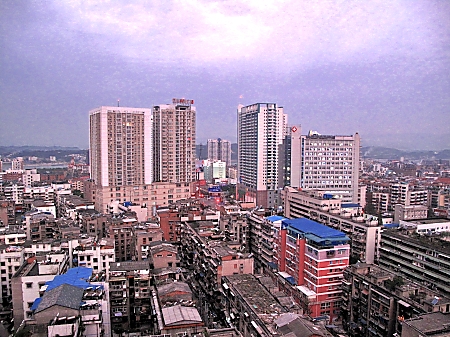 Yichang waterfront is a good place for a walk. There are many boats of various sizes, as well as fishermen trying their luck in the waters: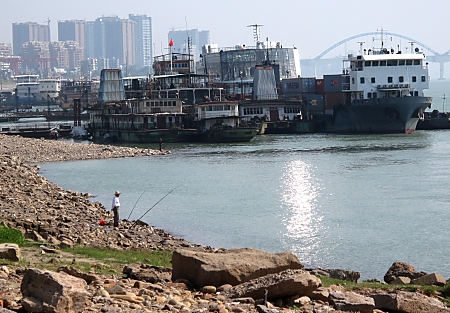 The 3 Gorges Dam is within easy reach of Yichang. There are many boat and coach excursions to the site of the dam. The dam itself isn't that interesting to see. But the vast ship locks and new ship lift is interesting. There is also a visitor centre and a gift shop.