Home > Software Reviews > Affiliate income monitoring software
Affiliate income monitoring software review
Affiliate income is a useful way of generating revenue from a website. Successful affiliates can make thousands of dollars from their websites.
However, tracking the amount of revenue generated from each affiliate program can be time consuming. Affmeter allows the affiliate marketeer to save significant amounts of time by automatically collecting revenue statistics. Once downloaded automatically from the appropriate affiliate websites, the data is compiled into a report showing total revenue, revenue per affiliate and other useful information. Data can be subsequently exported in a variety of file formats, allowing further data analysis in software packages such as Microsoft Excel.
By doing much of the mundane work associated with running affiliate programs, Affmeter allows the end user to concentrate on identifying future business opportunities.
Affmeter has an easy to use graphical user interface, as shown in the screenshot below. Unlike other analysis packages, Affmeter is a full standalone product, which requires no 3rd party databases to store data. Depending on your requirements, Affmeter can be set up to collect affiliate program statistics from time intervals ranging from daily to every 15 minutes. Affmeter can also assist with measuring the success of PPC (pay per click) campaigns.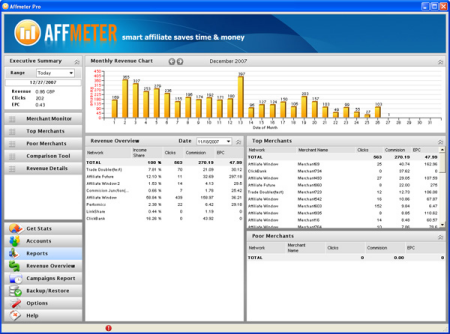 Affiliate Statistical Analysis
Understanding how your website makes its revenue is of crucial importance if you are to grow the website into a viable business.
The Merchants analysis tools within Affmeter are of particular value to website affiliate users. The reporting functionality of Affmeter can be used to quickly identify the top and worst performing affiliate networks and the particularly good and poor performing merchants within those networks. This type of analysis can be very lucrative as it allows a website to concentrate its efforts on areas that are making significant revenue, and identifies areas that it is not worth continuing with. This is one of the most important fundamentals of affiliate marketing, and understanding it will be the difference between running a website that makes good revenue, and running a website that makes significant revenue.
Supported Affiliate Programs
Affmeter supports most of the popular affiliate programs, including:
Google Adwords
Google Adsense
Commission Junction
Linkshare
Performics
Clickbank
LinkMo
Linktrust
Zanox
Affiliate Window
Affiliate Future
Tradedoubler
Buy.at
DGM Affliates
Webgains
Reporting.net
PaidonResults
Clixgalore
A built in currency converter even is even able to convert affiliate revenue into your local currency if you prefer to see your revenue in a currency such as pounds sterling, Australian dollars or Euros.