Editing ASP.NET files with Visual InterDev 6.0
The following SQL Server articles provide assistance with Transact SQL programming. More articles will be added at some point!
Here's a handy tip for those of you who want to use Visual InterDev 6.0 to edit ASP.NET files.
By default, it is possible to edit ASP.NET files in InterDev simply by double-clicking on the appropriate file in the Project Explorer window. The downside is that the file will not have syntax highlighting, which many people prefer to use when editing files. It is, however, possible to configure InterDev to show syntax highlighting of ASP.NET files. To do this, use the following procedure for files with each ASP.NET file extension you wish to configure. ASP.NET files generally use the file extensions .aspx and .ascx.
1. In the Project Explorer window, click on the appropriate ASP.NET file with the right mouse button and select Open With...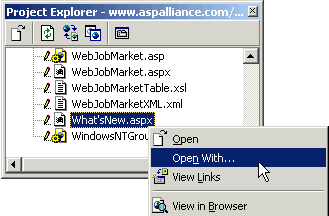 2.When the Open With window appears, select the Html Editor option, then click on the Set as Default button. Finally, click on the Open button to continue editing the file.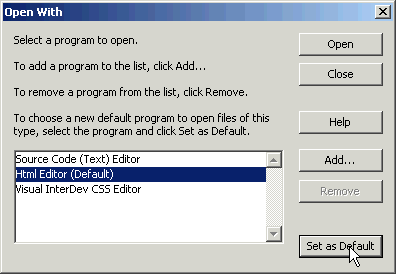 3. From now onwards, every file you open with the specific file extension will be opened in the HTML editor with full syntax highlighting.
Further reading