Dead Can Dance 2005 Concert Photos
I was lucky enough to go and see Dead Can Dance at the Barbican Centre in London during their 2005 European Tour. I also saw them again in New York during their Autumn 2005 American Tour.
Since the split the group members Lisa Gerrard and Brendan Perry have concentrated on their solo careers. Lisa Gerrard has since become well known for her work on film soundtracks, including popular movies such as Gladiator and Layer Cake.
The group had previously split up in 1998 so it was great to see them back performing again. During the concert they played a number of their previous songs, plus a few new compositions. Lisa Gerrard also performed some of her solo pieces. They are very good live performers, and sounded even better than they do on CD. They definitely have some energy in their music that doesn't transfer when recorded onto CD.
As to the playlist, I was disappointed they didn't cover anything from my favourite album (Within the Realm of a Dying Sun) but I was particularly impressed with:
Nierika - this made a wonderful opening number.
Salterello - classic happy medieval music that makes you want to get up and dance.
American Dreaming - a favourite from their 1993 tour.
The Ubiquitous Mr Lovegrove - very catchy and innovative.
Yulunga - Lisa Gerrard at her best.
Hopefully Lisa and Brendan will decide to collaborate in the future, as it would be great to hear new Dead Can Dance albums!
Dead Can Dance at Radio City Hall, New York City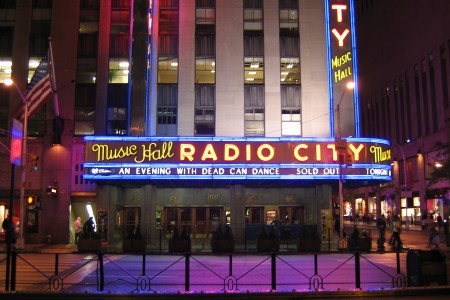 Dead Can Dance at Barbican Hall, London