TECHNICAL ARTICLES

ASP
ASP.NET
JavaScript
Transact SQL
Other Articles
Software Reviews
Home > Software Reviews > Cardboard Cutout Software
How to make your own cardboard cutouts of anybody
I've been using the Internet for years, but I think you'll agree that this is one of the neatest things ever: here is some software that will allow you to make your own cardboard cut-outs of any person!
I've been a software developer for years, but I've never had an idea as good as this. This software is perfect for creating your own cardboard cutouts. It works with any photo, so you can create lifesize stand-ins for parties, weddings, work parties, retirement parties, graduations, trade shows, gifts for friends and relatives as well as great promotional tools for small businesses. If you can find a photo of your friends, relatives, work colleagues or favorite celebrities, then you'll be able to make a cardboard cut-out of them! A cardboard cutout is a great conversational piece at parties, and is a lot more fun than a load of balloons!
The great thing about this cardboard cutout software is that it's possible to make as many cardboard cutouts as you want! If you have kids then this is one activity that will keep them busy for days!
There's also a great business opportunity to start a small business here - a cardboard version of a celebrity is often used to promote goods in stores, so I'm sure you could get a lot of orders once your cardboard celebrity cutouts start being seen around town. You'll also get loads of orders from friends and family as they want to be seen with their favorite celebrity or sports star.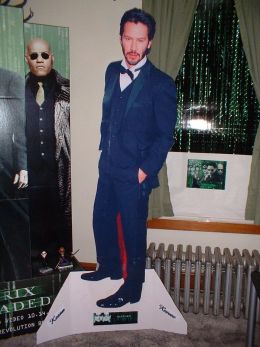 Cardboard Cutout People Software
This great sofware I've found allows you to make cardboard cutouts from any photo! While making a cardboard cutout might seem impossible, it's actually not that difficult to make one with the right software and instructions. You don't even need any special materials, any standard computer printer will work.
The cardboard cut-out creating software comes with loads of assistance, including:
How to choose the perfect photo for making a cardboard cut-out of a friend, colleague or family member.
How to find the perfect picture of any celebrity, sports star, singer or other famous person.
How to choose the best paper and other materials required for making your celebrity or other cardboard person.
How to make your cardboard cut-outs weather proof, fade resistant and long lasting.
Downloads
Cardboard cutout software. All the software and instructions you need for making an unlimited number of cardboard cut-out people from any photo!