Handling Multi-Select Input Boxes with ASP
The multi-select type of drop-down menu is useful if you want web site visitors to be able to select one or more items from a list.
Creating the web form
An example form is shown below: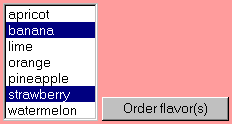 To make such a web form, cut and paste the following HTML code into a page called multiselect.asp:

<P><B>Select one or more flavors from the list below</B></P>
<FORM NAME="multiselectform" METHOD="post" ACTION="multiselect.asp">
<SELECT NAME="flavor" MULTIPLE SIZE="7">
<OPTION VALUE="apricot">apricot</OPTION>
<OPTION VALUE="banana">banana</OPTION>
<OPTION VALUE="lime">lime</OPTION>
<OPTION VALUE="orange">orange</OPTION>
<OPTION VALUE="pineapple" >pineapple</OPTION>
<OPTION VALUE="strawberry">strawberry</OPTION>
<OPTION VALUE="watermelon">watermelon</OPTION>
</SELECT>
<INPUT TYPE="submit" VALUE="Order flavor(s)" NAME="submitbutton">
</FORM>
Having done this, add some VBScript ASP code to the same page to decode the data sent to the page via POST when the form is submitted. The following ASP code snippets will enable the submitted data to be manipulated:
Extracting a list of requested flavors
Use the following code to display the flavors that were selected in the flavor
drop-down list.
<%
For a = 1 to Request.Form("flavor").Count
Response.Write("The flavor " & Request.Form("flavor")(a) & " was selected<BR>")
Next
%>
Finding out how many flavors were selected
It is also possible to find out how many flavors were selected:
<%
Response.Write(Request.Form("flavor").Count & " flavors were selected")
%>
Or by using a slightly more sophisticated version:
<%
If Request.Form("flavor").Count >= 1 then
Response.Write(Request.Form("flavor").Count & " flavors were selected")
Else
Response.Write("No flavors were selected")
End If
%>
Further Reading